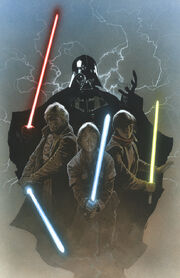 Star Wars: Vector is a comic released by Dark Horse in 2008. It includes the writers John Ostrander and John Jackson Miller, and covers a single character's journey through the continuities of Knights of the Old Republic, Dark Times, Rebellion, and Legacy. The aforementioned pivotal character turned out to be Celeste Morne. The storyline will proceed from Knights of the Old Republic, to Dark Times, then to Rebellion, and finally to Legacy, with each chapter being essentially self-contained. According to Ostrander, it will not involve flow-walking, and the events of Vector will influence all four comics, with the future direction of Legacy being written based on the events of Vector. Jan Duursema will do the art for the Legacy portion. Josh Elliot is working on cover design. Vector will be collected in two trade paperbacks, the first for Knights of the Old Republic and Dark Times, the second for Rebellion and Legacy.

Collections
Edit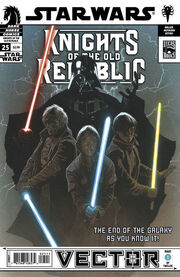 Ad blocker interference detected!
Wikia is a free-to-use site that makes money from advertising. We have a modified experience for viewers using ad blockers

Wikia is not accessible if you've made further modifications. Remove the custom ad blocker rule(s) and the page will load as expected.